Upper Colville River, Alaska
This interactive map of part of the Colville River, Northern Alaska, shows the locations of plant fossil collections made by J.T. Parrish and R.A. Spicer in 1985 and 1989. Click on a number for more details on that site. The red outlined area links to another map showing positions of florules (plant fossil assemblages) collected by C.J. Smiley along both the Colville and Chandler Rivers.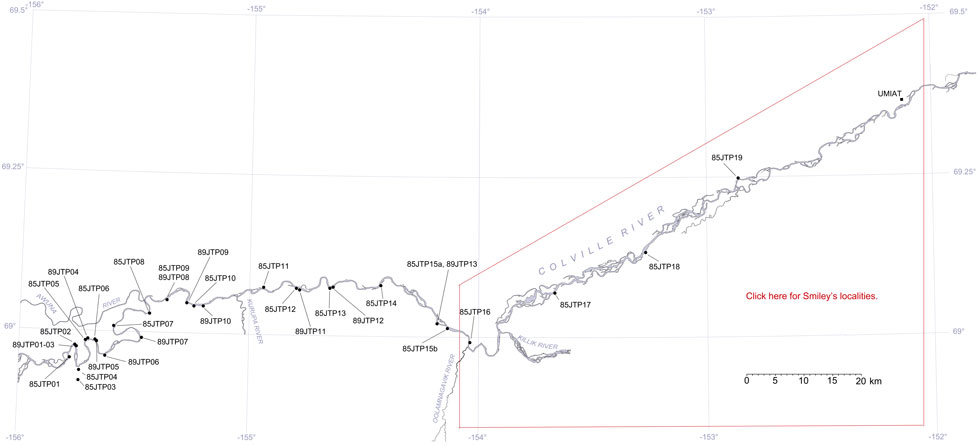 Locality 85JTP12
The locality is in an area mapped as the Lower Killik Tongue of the Chandler Formation of Chapman et al. (1964), now the upper part of the lower half of the Nanushuk Formation of Mull et al. (2003). The section here is a succession of poorly exposed coals, fine lenticular sandstones, shaley mudstones and bentonitic clays. Most of the plant remains are in ironstone concretions and very dine sandstones, silts and clays. The flora is made up of Sphenobaeira, Podozamites, entire-margined cycadophytes, small leaved entire or barely dissected ginkgos and Cephalotaxopsis and ferns. The sandstones are devoid of angiosperms, even platanoid forms, but contain fern fronds and conifers. Angiosperms do occur in other sedimentary facies and these include Dalembia, Ziziphus and Menispermites. Compressed trunkwood occurs in the coals.