Geology - Alaska and the Arctic Slope, (NASR)
The geology of Alaska as a whole is complex to say the least. An idea of this complexity, resulting from the collision and amalgamation over time of numerous tectonic blocks or terrains, can be obtained from the map below complied by Wilson et al. (2015).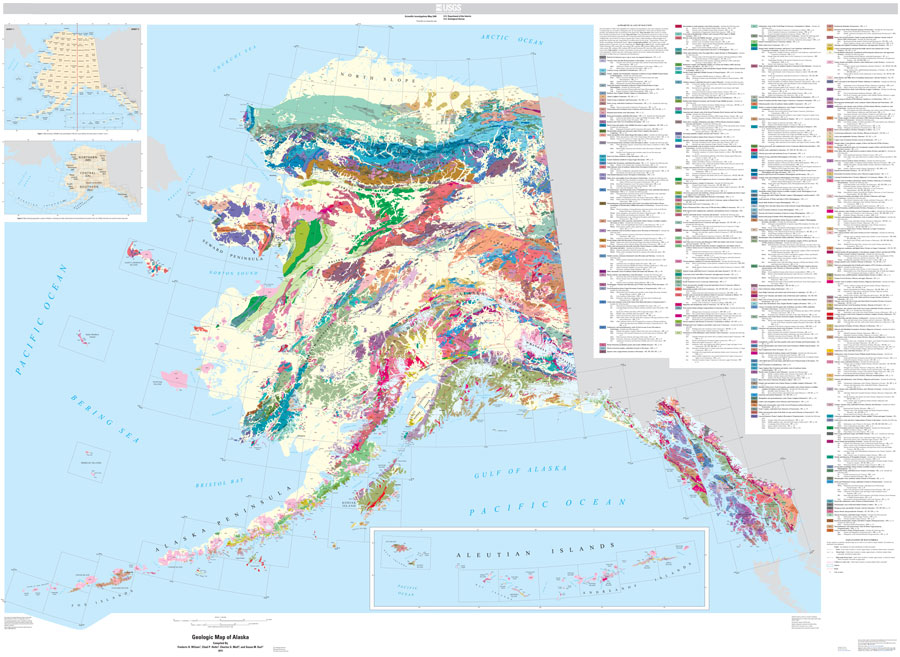 A geological map of Alaska showing various rock units exposed at the surface. Pale yellow/white areas represent poorly consolidated Quaternary surficial deposits. To download a high resolution map click here and for access to the original map and background information click here.
Many of the Alaskan plant fossils in this catalogue come from the Northern Alaska Subregion (NASR) located north of the Brooks Range. Here Late Cretaceous and early Paleogene rocks are exposed along the cut-banks of rivers. Plant fossils have been collected by numerous geologists over the years but the primary collections featured here are those of C.J. Smiley, A.B. Herman, J.T. Parrish and R.A. Spicer.
To the south of the Brooks Range lies the Yukon-Koyukuk Basin which sourced the material featured in the classic work of Arthur Hollick (1930). Some of Hollick's localities, mostly late Cenomanina and Turonian, were recollected by Spicer in the late 1970s and early 1980s.
The Chignik area, on the Alaska Peninsula, yields late Campanian to early Maastrichtian plant fossils. The collections in this catalogue were made by Spicer, J.A. Wolfe and J. Case in the mid 1970s.